A week packed full of activities!
Wow I really have been super busy lately!
I was supposed to help my friends move but since the date of the actual moving got changed and clashed with the yardwork we promised to do with Andreas dad I went over there earlier and spent a day helping cleaning and packing instead.
The yardwork was exhausting btw, being out all day, Collecting branches and stuff and making a
HUGE
bonfire. I also spent a lot of time removing 3 meters of almost dead raspberry bushes. So the garden looks so nice now, with lots of animal life and many small flowers starting to sprout here and there.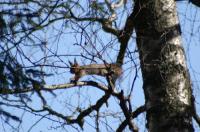 I can't wait to start planting some new stuff though. This is all so new to me, to have this opportunity to have a garden is super exiting
. I can't wait to see how it will look like this summer.
The day after that we went to celebrate my sister's 18th b-day (yeah there is only a week between our b-days). The family went out for dinner and I ate some suuuper yummy babyback ribs.
Had a lot of fun as usual
The day after that we went to hanami
(cherry blossom viewing) in Kungsträdgården in Stockholm (I'll post some pics from that in a seperate post) and later out for dinner and drinks to celebrate my b-day with my friends.
Couldn't really do that last weekend since it was easter and stuff, and everyone was busy visiting family etc.
I had sooo much fun. We ate mongolian BBQ!!!
!
Then we went to our fav bar where I had many yummy drinks,
altough my brother made me chug a super discusting shot
LOL
Thank you all so much, my dear friends
Topic : Share My World
Genre : Blog