Back to reality
Hi!
Hope that everyone had a nice weekend?? I had
another
amazing
one. First I got a Package
from Japan! It was from this amazing artist that
I've gotten to know trough Pixiv.
ありがとうございます!嬉しいです♪ ヾ(TωT。) わたし「A&D」さんの絵好きです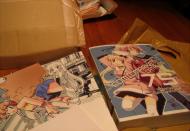 ・・いいなぁ。
and the comiket catalog is really huge!
Then on friday my sister came over with some
of her friends and we had a game night. it was
a lot of fun, played Xbox 360 and card games.
Although I mostly relaxed infront of the open
fire. Oh and one of her friends is an awesome
photographer and he took some super cute
photos of Spike!
<- my cat
like this one for example:
.
so cute!
[why not check out his
Flickr
]
the rest of the weekend was spent lazying
about, watching stuff, sleeping and drawing.
So nice..I never wanted it to end~
oh! Did anyone notice I updated a new top
banner artwork?
(well, it's the same drawing
but I re-drew it in solids instead)
.
...but to be honest I don't really know which
version I prefer